"U"-Turn for Christ is a non-profit, Christ- centered drug and alcohol rehabilitation ministry located in beautiful Gold Hill, Oregon. A non-smoking, working ranch dedicated to obedience, integrity, accountability and community service.

We have two major phases; the first consists of a minimum commitment of two months on the "ranch", based on compliance and completion of required assignments and absolute sobriety. Phase two consists of a six month commitment to the second phase house to reinsert the men into society.

Some of the requirements of second phase are to maintain qualified employment, pay for room and board, serve at the church and of course to maintain complete sobriety. There is support and accountability to help achieve this in a loving atmosphere of brotherly comradery.

100 Lampman Rd., Gold Hill, OR 97525

U-Turn For Christ Oregon

Restoring Men's Lives through Jesus Christ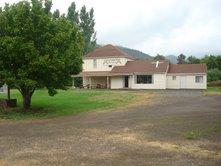 Please shop on
www.ShopForUturn.com
which offers FREE shipping on orders over $75 on your basic commodities, no matter how heavy! 100% of the proceeds will be donated to U-Turn for Christ Oregon.